Obituary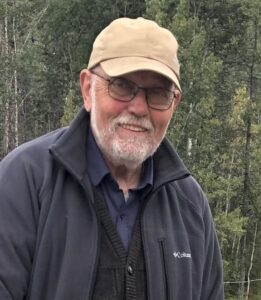 Leslie Newton Yates, 73, passed away Sunday, June 25, peacefully at home in Quick, BC following a diagnosis in April of Glioblastoma, an aggressive brain tumour.
Les was born in Stratford, Ontario and his family moved to the Toronto suburb of Rexdale when he was five years old. He lived there long enough to graduate from high school and get his private pilot's license.
Les was incredibly curious about the world. He travelled extensively for two years then returned to Ontario to get a degree in journalism from Ryerson University. He moved to BC in 1975 and worked on various newspapers including the Cowichan Leader in Duncan, BC where he met his wife Chris. They both were hired by the Prince Rupert Daily News in 1977 and they lived in Rupert on and off for the next 20 years. Between 1978 and 1980 Les also worked for CBC Radio, the Victoria Times and Spiller's old Wahl Boatyard in Dodge Cove.
He and Chris started a desktop publishing business in 1981 in Prince Rupert and in 1991 they started the weekly newspaper Prince Rupert This Week. In 1993 the paper was bought by Stirling Publishing and Les became the publisher of both the weekly and daily papers in Rupert. The same year he fulfilled a life-long dream and bought a half-section in Quick with the intention of eventually 'going farming.' In 1996 Les took on the management of Tyee Building Supply in Prince Rupert where he worked until 1998 when he decided to work the dream. He and Chris and their son Ian moved to the farm in August of 1998. Shortly after, Les was hired to manage Bulkley Valley Home Centre where he worked happily for the next 15 years.
In 2004, Les and Chris' son Colin, 24, died in a car accident in Ontario. This was a challenging time in Les' life and one that he never quite recovered from. He went on to become a very loving and supportive grandfather.
After retirement, Les and Chris travelled extensively together and Les loved putting slide shows together for their neighbours. One of his highlights was a trip to Africa where he travelled from Rwanda to South Africa in the support vehicle for a group of motorcyclists on a fundraising adventure.
He loved life and the land and developed a herd of Galloway/Angus cattle at Lemieux Creek Ranch. In 2011 he started selling grass-fed beef to customers all over BC through his website. He was preparing to start his 12th year in the business and always looked forward to interacting with his customers over the details of cuts and quantities for their individual needs. Les was very involved in the BC Cattleman's association and was constantly striving to improve his farming practices and environmental stewardship. He was very proud to use the highest animal welfare practices and produce AAA grade, grass-fed beef.
In his final days Les was tended by his family and by his loyal friends and neighbours who helped make it possible for him to stay at home for the last weeks of his illness. Thank you to Nurse Practitioner Deb Lowe, Northern Health Physiotherapist Barb Darnell, Chantelle and the Palliative Care Team, Wellspring homecare workers Amy and Rebecca, Northern Health homecare worker Val for the quality of their care. A special thanks to Joanne Wisselink who was always there to help and advise, day and night. To Justin and Alicia Wisselink who made it possible for us to continue farming in dire circumstances, John Wisselink who brought calm and farming news. Travis Naninga and Lenard Vriend who pulled out all the stops and made changes to the house that allowed Les to be cared for safely at home as well as continuing to visit him. Curt and Betsey Gesch, Fred and Iris Tabert, Jesse Boonstra, Dale Harris, Ken and Natalie McDonald, Dave Harris, Cindy and Jack Payne, Joyce and Rene Dieleman and Brigitte and Roland Oberlader who continued to visit, bring meals, look after the dog, and treat Les with respect and dignity as he declined in his last days.
To Francoi Depey of Better At Home who went out of his way to be sure we were able to have meals despite our distance from the service. To Denise Kalina of Smithers Hospice, Charmaine O'Coffee, Neal Anderson and Schrader Funeral Home for their expert service and advice.
Many people offered sincere concern, and offered prayers and help if needed, they helped keep us going. We are reminded how much goodness there is in the world.
Les is survived by Chris, his wife of 43 years, daughter Charlotte who lives in New Zealand with her husband Dean Parchomchuk and 3 daughters: Autumn 12; Gwyneth 12; and Robyn 8; and Ian who lives in Hamilton with his wife Elvi and daughters Rosie 9 and Nora 7; his brother Jim and his wife Debra of Ingersoll, Ontario, their daughter Jamie Losee, her husband Mike and their daughters Ryenne and Blaire; his sister Rae of Trenton, Ontario and his many cousins on both the Yates and Gourlay sides of the family.
Les' first love was his family and he will be sorely missed by his wife, his children and his precious grandchildren.
In lieu of flowers please consider donating to Bulkley Valley Hospice Society, Click here to donate.
2023 IS NOW SOLD OUT!
Please visit our site again to book for 2024.
100% grassfed and finished beef, delicious and healthy!
Thank you for visiting Lemieux Creek Ranch.
We located near Smithers B.C. in the Bulkley Valley and are proud to provide you and your family with a natural, healthy alternative.  Our grass-fed beef is raised without antibiotics, growth hormones, animal by-products or grain. Our beef comes from primarily Black Angus cattle, many of which have some Galloway genetics. Our dedication to animal welfare and high-quality forage contribute to a product that is not only good for your health but excels in flavour and tenderness.
Reserve Your Grassfed Beef for 2023
We harvest our animals in the late summer through early winter when they are between 17 and 22 months of age. The meat is dry aged for  14 days before being professionally cut and wrapped. We sell only by the whole and half, although two friends or family members may split a side taking a quarter each.  Our production is limited so we encourage advance orders that are guaranteed with a $200 deposit.
The 2023 price for a side is $6.15/lb including processing, based on the carcass hanging weight and pick up at a local butcher. In October we deliver to the lower mainland for an additional 27 cents/lb, or approximately $82 per side. We also deliver to Terrace, Kitimat and Prince Rupert in November for 11 cents/lb or $33 per side.
Please see Order Info for options and pricing detail. FAQ will answer many questions too.
Pricing as Jan 1, 2023