B.C. Environmental Farm Plan
As part of our commitment to farm sustainability we underwent an environmental review with this provincial government program. After a thorough review of the ranch by an EFP advisor several recommendations were made to bring our operation into harmony with current environmental standards. All of their recommendations were completed in 2015. This work included further protection of the riparian zone along Robin Creek. We were given the EFP designation in the fall of 2015.
Verified Beef Production
This is a Canadian  verified on-farm food-safety program designed to help uphold consumer confidence in the products and management practices of beef producers. It has been designed to reduce or eliminate the possibility of a food safety concern on a beef cattle opration. The program includes audits of cattle medical treatment records to ensure any use of antibiotics and vaccines does not compromise food safety. We were audited in August 2015 and received the designation in September.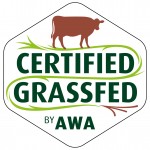 Animal Welfare Approved
Animal Welfare Approved (AWA) is a food label for meat and dairy products that come from farm animals raised to the highest animal welfare and environmental standards. The program was founded in 2006 as a market-based solution to the growing consumer demand for meat, eggs and dairy products from animals treated with high welfare and managed with the environment in mind. As a program accredited to ISO guideline 65, you can trust in the AWA label while making food choices when you can't visit the farm yourself.